New Releases: SDOH Toolkit and Learning Forum Sessions for the Health IT Community
The new Social Determinants of Health (SDOH) Information Exchange Toolkit is a practical, on-the-ground resource designed to aid the health IT community in the implementation of initiatives that recognize the importance of using SDOH information.
Addressing SDOH is complex given the diversity and multisector nature of services (i.e., food, housing, transportation insecurity, clinical care). This can present challenges to service coordination due to non-uniform data collection, varied system designs, and differences in information technology (IT) capacities (including for exchange).
ONC recognizes the potential of data-driven technologies, including certified health IT, to impact health equity, and we are committed to advancing the use of interoperable, standardized data to represent social needs and the conditions in which people live, learn, work, and play.
In 2021, ONC organized a panel of experts within the health and human service ecosystem to identify key considerations for interoperability and implementation of SDOH information exchange in communities. This effort informed both the SDOH Information Exchange Toolkit (SDOH Toolkit or Toolkit) and the past and upcoming SDOH Information Exchange Learning Forum sessions.
Supporting the Collection and Use of SDOH Information in Communities
ONC designed the SDOH Toolkit as a practical guide for conveners, facilitators, implementers, and others in the health IT community to consider SDOH information, where appropriate, in their collaborative assessment, design, implementation, and governance of health IT systems. The Toolkit can serve as a resource for initiatives that support the collection and use of SDOH information in communities across the United States, and includes considerations related to community engagement, health IT standards, infrastructure, interoperability, and governance.
The Toolkit is structured around 10 Foundational Elements of SDOH Information Exchange and includes case studies and questions for consideration that can aid implementers as they build or update data initiatives involving SDOH. The Foundational Elements inform each other, and governance intersects across each of them.  We've designed this resource as a useful starting point for use across sectors, contexts, and communities to support efforts to inform health equity and more informed care.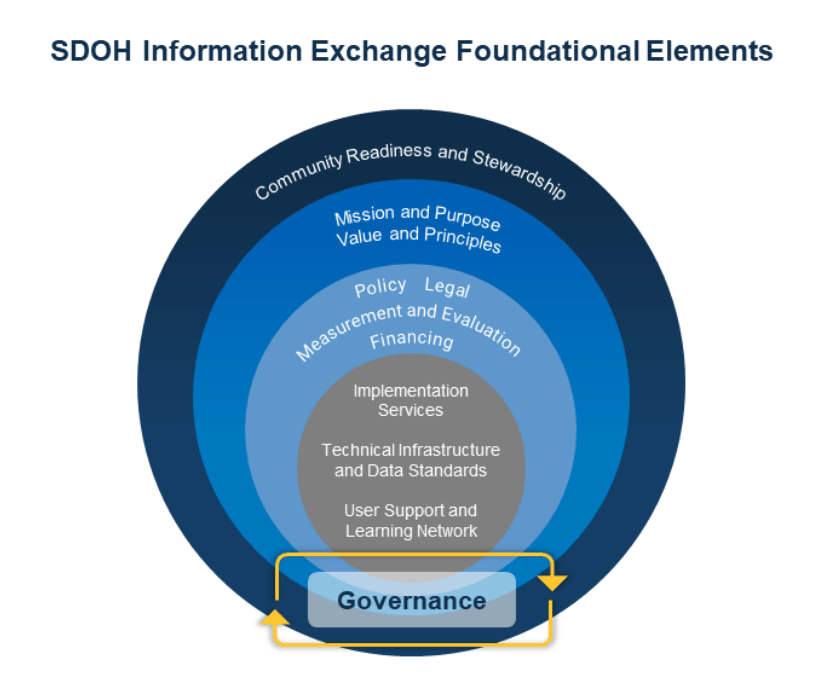 Multiple Sectors Come Together to Learn About SDOH Information Exchange
Many communities across the United States already leverage technology and information exchange to enhance health services and care to promote health equity. In March 2022, ONC launched the SDOH Information Exchange Learning Forum to further explore the foundational elements of SDOH, share lessons learned, highlight challenges and promising approaches from the field, and engage in peer-to-peer learning. To date over 1,500 people have been brought together, representing a wide array of sectors, including community-based organizations, developers, government, health information exchanges, innovators, patients, patient advocates, payers, providers, and others.
Several important insights have emerged from the Learning Forum so far:
Community interoperability is based in standards: Standards, including Health Level Seven® (HL7) Fast Healthcare Interoperability Resources® (FHIR), support SDOH information exchange and facilitate interoperability in communities for service provision and coordination. There is room to advance standards development and standards adoption can support greater electronic service coordination in communities.
Equity as a core design feature: Ethics and equity are important foundational elements to consider throughout the planning, implementation, and evaluation of SDOH information exchange initiatives. Privacy and consent are central to fostering and maintaining trust among all entities involved, especially those receiving services.
Foundational elements: Implementing SDOH information exchange in communities is more than the underlying technology—there are 10 foundational elements in the framework that help to facilitate interoperability and SDOH information exchange in communities.
Governance: Governance intersects across all foundational elements of the SDOH Information Exchange framework. Participants frequently mentioned the importance of representation from various entities in the community in governance processes, especially individuals receiving services, community-based organizations, and social service providers.
Time and investment in human resources: SDOH information exchange efforts require time and investment to build capacity and trust to ensure that the mission, purpose, and decision-making processes of the initiative are aligned with the needs of the community.
We thank all who contributed to the development of the Toolkit and Learning Forum sessions and for sharing their experiences and insights with ONC.
Didn't get to attend one of the Learning Forums? You can check out the slides and recordings.
What's Next?
Soon we will host a webinar discussing the SDOH Toolkit; follow the ONC e-blast to be the first to find out when it gets scheduled!
Also, our 2023 SDOH Information Exchange Learning Forum series will further highlight and discuss topics within the Toolkit. Register for the 2023 series.
We would like to acknowledge former ONC team members Whitney Weber and Elizabeth Palena-Hall for their significant contributions to ONC's SDOH Information Exchange efforts.